JD098 Christmas Dreams
Have some holiday fun with these designs. All designs are sized for the 4x4 hoop
These designs would be fabulous around tree skirts, as wall hangings and on clothes!

JD098_1 Present
98.0 mm x 80.2 mm
7,925 Stitches

JD098 Angel
71.1 mm x 91.3 mm
6,987 Stitches

JD098 Reindeer 1
99.8 mm x 68.6 mm
5,801 Stitches

JD098 Reindeer 2
99.8 mm x 67.5mm
6,318 Stitches

JD098 Tree
79.7mm x 90.4mm
10,269 Stitches

JD098 Sleigh
97.8 mm x 75.7 mm
10,699 Stitches

JD098 Santa
95.1 mm x 97.7 mm
7,061 Stitches

JD098 Star Holiday
88.9 mm x 81.3 mm
1, 835 Stitches

Lay them out and make a quilt

(sample layout)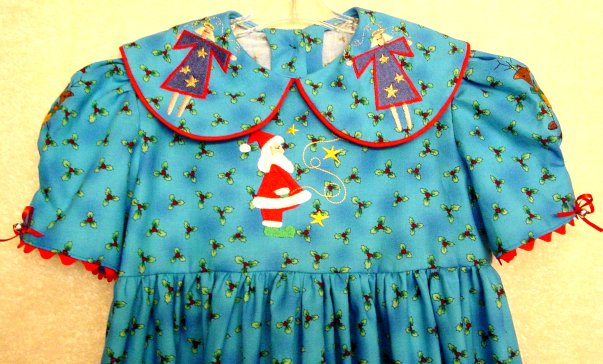 Gail Beam sent this photo in of a dress she is making.
This dress is sew cute!
These beautiful wall hangings were stitched by Linda Watts

These are so bright and cheery!